Our services help deploy DSCSA initiatives by ensuring alignment of their business strategy with their technology capabilities and regulations. With our focused approach and a flexible operating model, we strive to ensure full compliance and deliver improved program performance, with maximum value.
Are you DSCSA ready?
The Drug Supply Chain Security Act (DSCSA) became law in November 2013, providing a national standard for drug security and harmonizing existing state-level Pedigree regulations. DSCSA mandates fully supply chain traceability from pharmaceutical manufacturer to pharmacy dispenser, with compliance data exchange between supply chain partners at each change of ownership.
DSCSA Compliance Timeline – November 2020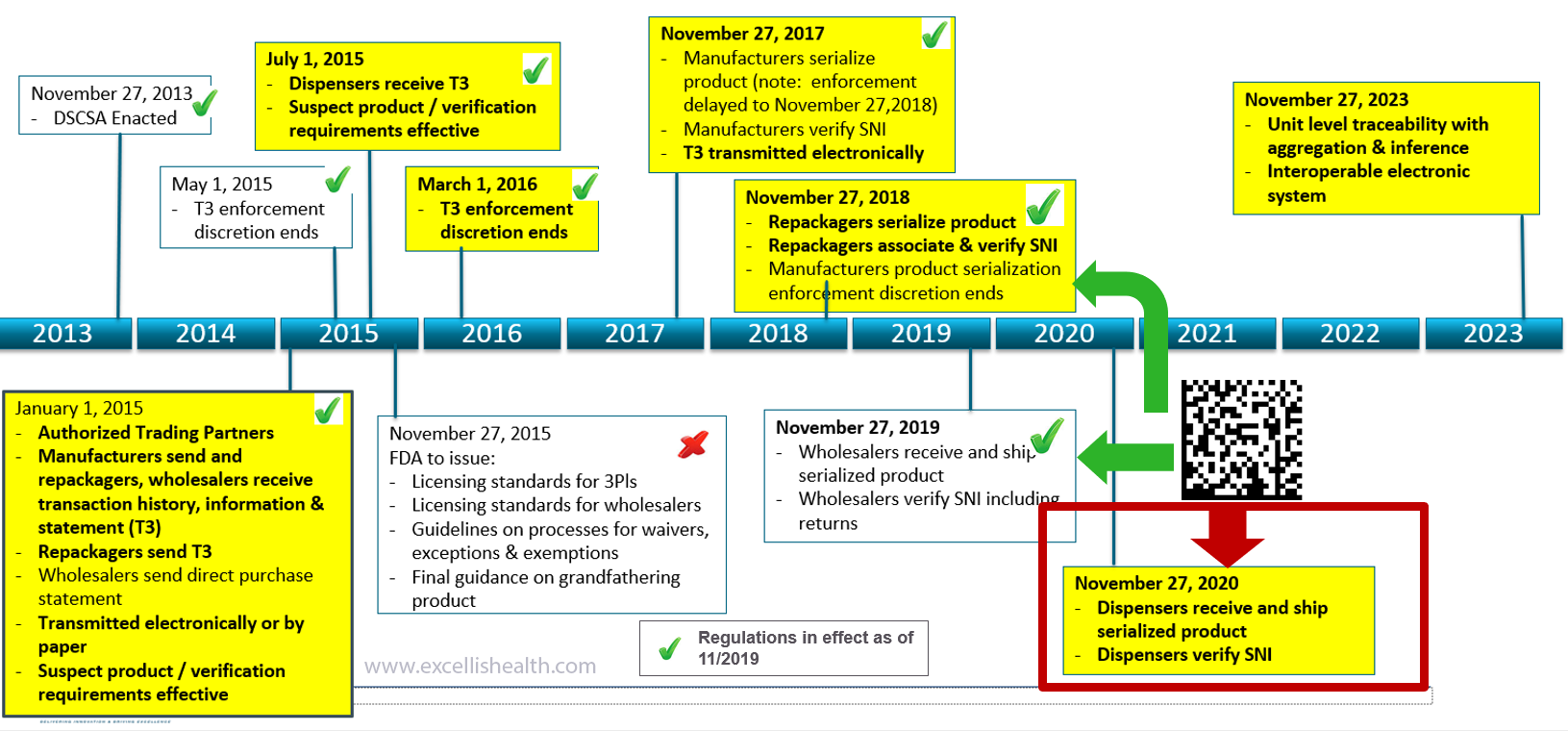 White Papers
Our team of serialization, compliance, and project management experts offer a deep understanding of the latest supply chain trends, issues, and regulatory changes. Read a selection of our recent white papers here.
OIG Report: "Drug Supply Chain Security: Dispensers Received Most Tracing Information"
OIG Summary: "Drug Supply Chain Security: Wholesalers Exchange Most Tracing Information"
---
Upcoming Webinars
Stay tuned for our next healthcare/retail pharmacy webinar!
You can find our archive of past webinars here.
---
Global Track & Trace Dispenser Roundtable
Join us for our third annual Global Track & Trace (GTT) Roundtable for Healthcare & Retail Pharmacy professionals on May 12, 2020!
2020 is the Year of Compliance – Are you ready?
This is your exclusive invitation to get to the heart of the Drug Supply Chain Security Act (DSCSA) from the "dispenser's" point of view. With the upcoming 2020 serialization deadline and many organizations not being fully compliant with current DSCSA requirements, it is now more important than ever to understand what retail pharmacy and healthcare organizations need to "check the box".
Compliance alone will change your current processes, supplier relationships, and technologies. With a strong compliance foundation, you have the opportunity to control that change and build on top of it (if you choose) to create quantifiable and meaningful value.
In its third year, the expanded roundtable is an opportunity for healthcare & retail pharmacy leaders to meet and discuss DSCSA in a small group setting designed to promote interaction and generate tangible takeaways for your organization.
Date: Tuesday, May 12, 2020
Time: TBA
Location: New Jersey (location TBA)
This is a complimentary event.
Agenda TBA.
Register here.